News
Another good year for the airport in Jasionka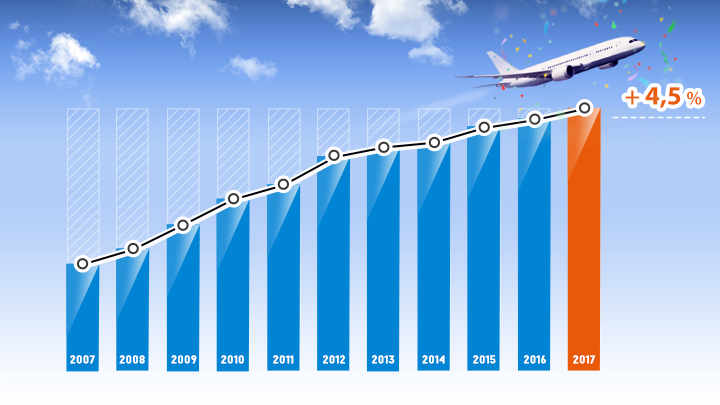 Almost 700 thousand passengers used the services of the Rzeszow-Jasionka airport last year. It is the best result in the airport's history, achieved mainly due to increased traffic on domestic routes and an increase in the number of holiday charter flights.
The number of passengers served increased by 4.5 percent as compared to 2016. The number of air operations carried out – by 12.5 percent. LOT Polish Airlines contributed significantly to this success by serving 15 percent more passengers on the Warsaw–Rzeszow route than in 2016, which is almost 200 thousand people in total. Last year, a substantial rise in the popularity of charter flights from Jasionka to Greece, Bulgaria and Turkey - being the most popular destinations - was observed. The number of passengers on holiday flights increased by 3/4 as compared to 2016. Most passengers, i.e. over 13 500 people have travelled to Greek islands – Corfu, Crete and Zakynthos.
- Despite many challenges the aviation industry had to face last year, we managed to maintain the positive trend and serve a record number of 693.5 thousand passengers - says Michał Tabisz, President of the Rzeszow-Jasionka Airport. 2018 is going to be even better as together with the air carriers, we are planning to launch six new routes. The most anticipated one is a direct route to New York, but we hope that regular flights to Tel Aviv, Athens and Burgas as well as holiday charter flights to the Greek island of Rhodes and to Tirana will be equally popular.
2017 was a successful year for the airport in Jasionka not only because of the number of passengers served. Other important events included the opening of a new cargo terminal and concluding a contract with an investor for putting up a modern Holiday Inn Express hotel in the vicinity of the airport and the Exhibition and Congress Centre in Jasionka.
Rzeszow-Jasionka Airport offers regular, daily connections to Warsaw, London and Munich, as well as flights (2-3 times a day) to Dublin, Manchester, Bristol, East Midlands and Glasgow. On March 11 there will be a launch of a new route to Tel Aviv, and on April 30 – weekly intercontinental flights from Jasionka to Newark, NY with Boeing 787 Dreamliners. What is more, the summer 2018 is going to welcome regular flights to Burgas, Athens and Corfu. The airport cooperates with three airlines: LOT Polish Airlines, Lufthansa and Ryanair.