News
Change of security procedures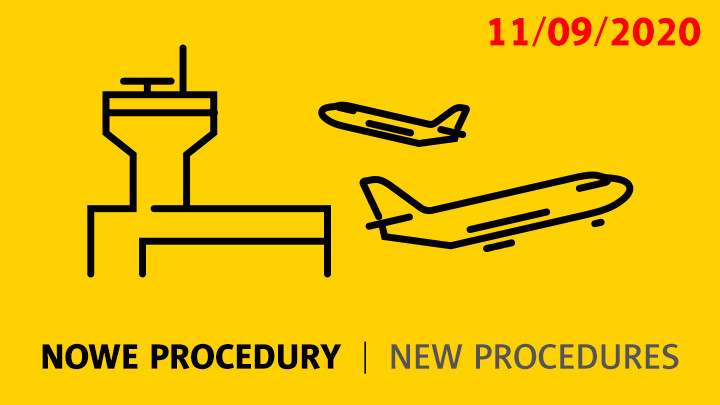 We would like to kindly inform that from today we are opening our terminal to all visitors. Other restrictions remain unchanged.
Most important rules:

In order to ensure your safety and good health, every person entering the Terminal will be subjected to an obligatory body temperature check.Trained airport employees will give you on-site directions concerning a safe passenger path.
Please arrive at the airport sufficiently early to account for longer check-in times caused by the newly-implemented safety procedures.
Safe passenger path:
The Terminal may only be entered through the western door. All the other doors serve only as Terminal exits.
Before entering, you must cover your mouth and nose, e.g. with a mask or a scarf.
Verification of persons eligible to enter the Terminal by an airport employee at the inspection post.
Body temperature verification conducted at a dedicated check point.
Completing the check-in and baggage handlingfollowed by security control.
Entering the landing field.
Take care of your and others' health and safety
Dear Passengers,
For health and safety reasons, please ensure there is a two yard gap between you and the person in front of you.
Please clean your hands when necessary.
Please remember to cover your mouth and nose at all times when in the airport.
If you sneeze or cough, please cover your mouth and nose with the inside of your elbow.
It is recommended to change your face mask after four hours, unless the producer's recommendation is different.
Immediately dispose of the utilised mask into one of dedicated bins.
Please refrain from touching any of the airport's infrastructure unless it is necessary.
It is recommended that you leave the airport immediately after collecting your baggage.

We apologize for the current restraints but hope you understand and we wish you a pleasant journey.