News
Routes Europe - Bilbao 2018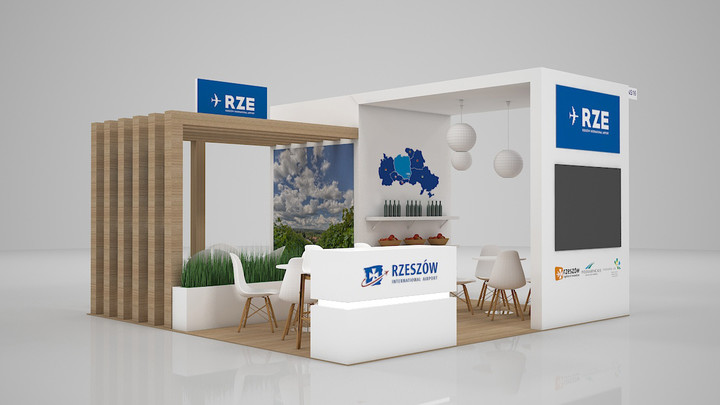 For a second year running, Jasionka Airport presented itself during Routes Europe – the most important industry event in the Old Continent, during which airports have a chance to promote themselves. In its efforts for developing its offer, the airport was supported by the Marshal Office, the Subcarpathian Regional Tourist Organisation and the City Hall of Rzeszów.
The 13th edition of Routes Europe took place between 22 and 24 April in Bilbao, Spain. 1200 delegates representing over 100 airlines, 300 airports and 50 tourists organisations gathered in the Basque Country. Jasionka is one of two Polish regional airports that presented themselves on an individual stand.
- Competition between regional airports is getting fiercer and fiercer every year since a growing demand for air travel doesn't go hand in hand with availability of aircrafts on the market. Therefore, smaller, regional airports, like ours, have to do their best to obtain new routes - says Michał Tabisz, President of the Rzeszow-Jasionka Airport. Our own stand attracts attention of potential partners and gives us a possibility of carrying out conversations in a more informal atmosphere. I am glad that local goverments and the City of Rzeszow together with the the Subcarpathian Regional Tourist Organisation have engaged in our actions; such join promotion is a common trend in Europe and in the world.
- Jasionka Airport is a window on the world of our province, which allows us to gain new investors, attract tourists to Subcarpathia, and reach various places in the world - says Władysław Ortyl, the Marshal of the Podkarpackie Region of Poland. - Every new route contributes to the development of the region, not only in economic, but also social sense. Direct flights from Rzeszów to New York City, which will be launched soon, are a perfect example of that. Passengers on both sides of the Atlantic, as well as businesses regularly using cargo services, will benefit from it.
- One of the most important factors considered by investors and tourists is the accessibility of the city - said Tadeusz Ferenc, the President of Rzeszow. – Rzeszow-Jasionka Airport is constantly developing, which contributes to making its economic and tourist offer more and more attractive. As a local government, we support the development of the airport by engaging in activities such as joint promotion during Routes Europe.
To read more, visit the official event website: https://www.routesonline.com/events/192/routes-europe-2018/