News
Quick and easy printing at Rzeszow International Airport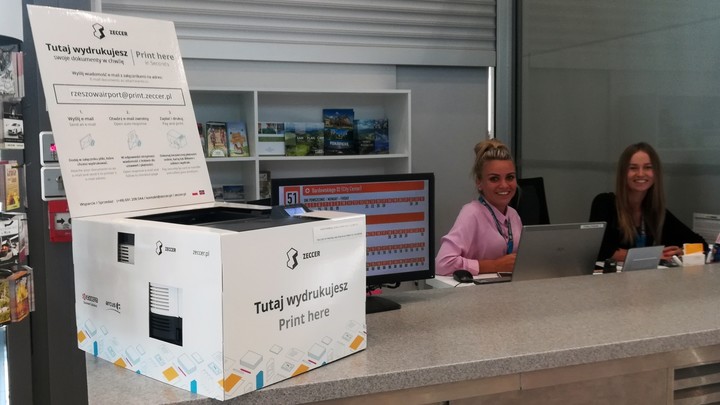 Rzeszow-Jasionka Airport is another airport in Poland, where travelers and guests have a possibility to use a self-service printing station. As part of the Kyocera Zeccer quick print service at the Podkarpackie airport, the KYOCERA ECOSYS P3045dn device was installed.
Since the beginning of August, a self-service printing station has been available in the passenger terminal at Rzeszow International Airport, while ZECCER has been operating on the market for over three years. This innovative solution allows users to send documents via e-mail to the printer's address, and the system deals with the remaining elements of the process. You can also order printing via a free app you can download on your Android or at zeccer.pl. The system producers have ensured the safety of information sent to the device. The process of sending documents to the printer is coded, and your files are removed right after printing. You can pay for your printouts by debit or credit card, via online payments, a text message, or by BLIK.
The printer features a short first print out time, which is only 5.9 seconds. The device is available in the Passenger Service & Information Desk. The network of Arcus Kyocera Zeccer devices is growing. At present, quick and easy printing is available in 18 cities in Poland, including Cracow, Lublin, Łódź, Poznań and Warsaw. The devices are located in, among others, academic centres, business centres, and libraries.
The convenient printing service fits into the increasingly popular share economy trend in the world.
It is based on the sharing of goods and services, while increasing the efficiency of their use. Interest in our service is growing, which is a premise for its further development in subsequent locations such as, for example, centers or retail chains. Self-service printing is needed, modern and convenient not only for travelers, but for all those who do not see the need to have their own printing equipment - says Michał Gembal, Marketing Director of the Arcus Group.
We are glad that,together with Arcus, we could offer passengers another amenity - says Marcin Kołacz from the Rzeszow Airport press office. - We are constantly working on improving the convenience of the terminal. So far, among other services, we have launched the Kiss & Fly parking zone, baby carriages in gates, children's play areas or a telephone booth with a possibility to make free calls to Poland. Recently, we have become the second airport in Poland, which introduced a convenient print service, namely Arcus Kyocera Zeccer. We are convinced that this amenity will also be well received by passengers visiting our airport.