News
70th anniversary Gala of Rzeszow International Airport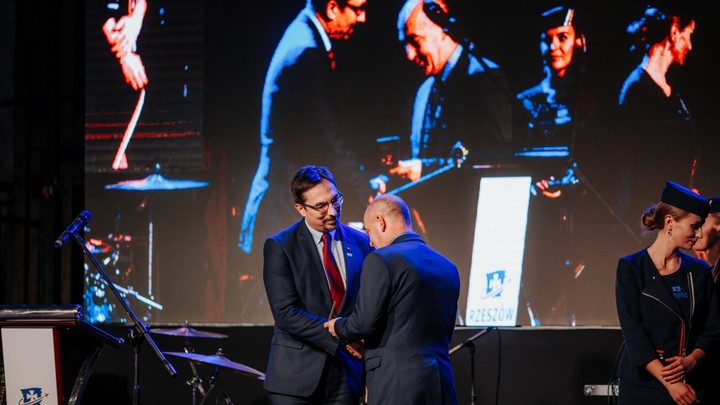 On 30th May, Rzeszow International Airport was celebrating its 70th anniversary with a special jubilee gala in Bristol Hotel in Rzeszow. Invited guests included representatives of Polish airports, local authorities, state institutions, companies cooperating with the airport, airlines, and airport-related business.
It was not an ordinary Gala summarising the past year which airport guests were used to. This time, Rzeszow Airport was celebrating its round 70th anniversary of operation. During the Gala, companies and institutions which have contributed to the development of the airport were honoured. The event was divided into seven decades, in which the awards were given to:
- LOT Polish Airlines,
- Polish Air Navigation Services Agency,
- "Polish Airports' State" Enterprise,
- the Border Guard,
- the National Revenue Administration,
- Ryanair,
- Lufthansa,
- the Marshal Office, Marshal of Subcarpathia Province Wladysław Ortyl
Everyone knows that the strength of a successful enterprise lies in people. Therefore, distinguished people who managed Rzeszow Airport in the past were also honoured. They were thanked for their contribution and commitment to the airport development. The occasional medals were awarded to:
- Stanislaw Drozd – CEO of Rzeszow International Airport between 1993 and 2003,
- Jan Straz – CEO of Rzeszow International Airport between 2003 and 2006,
- Wiesław Mardosz – CEO of Rzeszów International Airport between 2006 and 2008,
- Wladyslaw Uchman – CEO of Rzeszow International Airport between 2008 and 2009,
- Stanisław Nowak, the first President of the Management Board of Rzeszow-Jasionka Airport between 2008 and 2016.
All the Gala participants also received a commemorative occasional pin and a book "Skrzydła nad Wisłokiem" by Szymon Jakubowski. It is the first book bringing together about 200 years of aviation in the Subcarpathia region, with particular reference to Rzeszow International Airport.
All the photos from the event can be found: LINK